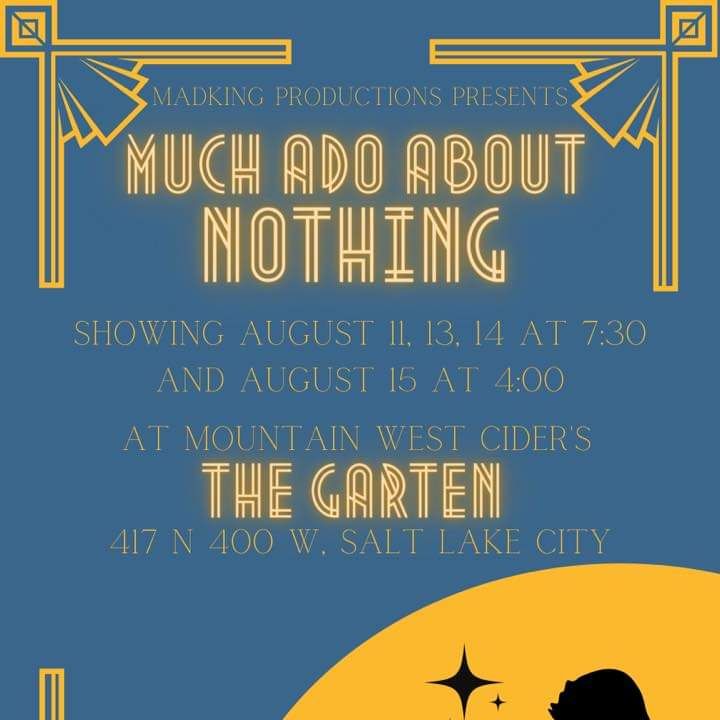 MUCh Ado About NOthing 2021
a MKP premier event!
We were thrilled to  return to the stage in 2021 with Drunk Shakespeare: Much Ado About Nothing, taking the classic and revered comedy dancing into the roaring 1920's. This production ran during the summer of that year, and was the last production of ours to be performed on the original outdoor stage at The Garten.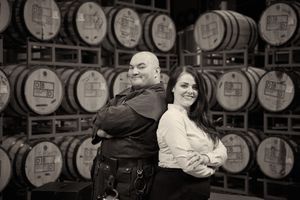 "

On New Years Eve 2019, we as a production group were so excited to start the ball rolling on our production of Much Ado About Nothing. I think it needs to go without saying what happened in 2020, which gave us LOTS of time to prepare for for this show. As I sat at home for the next year, I used it to research what themes I wanted to represent in our show. Something I kept coming across with the 1920's was gender. It was a time that both men and women started openly expressing their gender how they wanted it. Corsets were gone, and shapeless, drop waist flapper dressed became the rage. Lesbians were more confident in wearing trousers. Men started wearing make-up (again), and wigs with gowns. Drag Balls were becoming more and more popular in the underground. It was the beginning of the "Pansy Craze". Songs such as "Masculine Woman, Feminine Men" or "Let's All be Fairies" were climbing the popular chards for music. Now 100 years later we are addressing these gender questions once again. Science and society are acknowledging that sex and gender are two separate ideas. We understand that humans can look a certain way but BE a different one. We no longer owe anyone we meet an explanation or clear-cut expression of our gender identity. We can present ourselves in the way that makes us feel happy, the way that makes us feel like our true selves. For me, my life has personally been touched by many LGBTQIA members, and more and more so especially by Transgender and Non-Binary friends and family. Changing the gender of severl key characters in this show not only opened the ability for immensely talented women to be on stage, but also play around with the idea of what gender was to them. You will hear women be called "sir" and "she" and then back to "gentleman" all within the same conversation. I wanted to create a world where gender wasn't a deciding factor on who we loved, military position, or financial status. Someone's gender and outward appearance is the least interesting thing about someone. Finding love from a person who can match wits, share in passions and support you in a time of need are above and beyond the basics of a relationship that can be meant to last. " - Carleigh- Jo Naylor, director
Much Ado About Nothing 2021