MAD KING PRODUCTIONS (MKP) is a troupe of entertainers bringing you both classic and original works, with that little extra edge hard to find in Utah community theater. Mad King breaks identity norms, and brings you classic and original plays with a modern twist. MKP aims for quality entertainment to be enjoyed by all. So sit back, grab a drink, and get ready to laugh with us.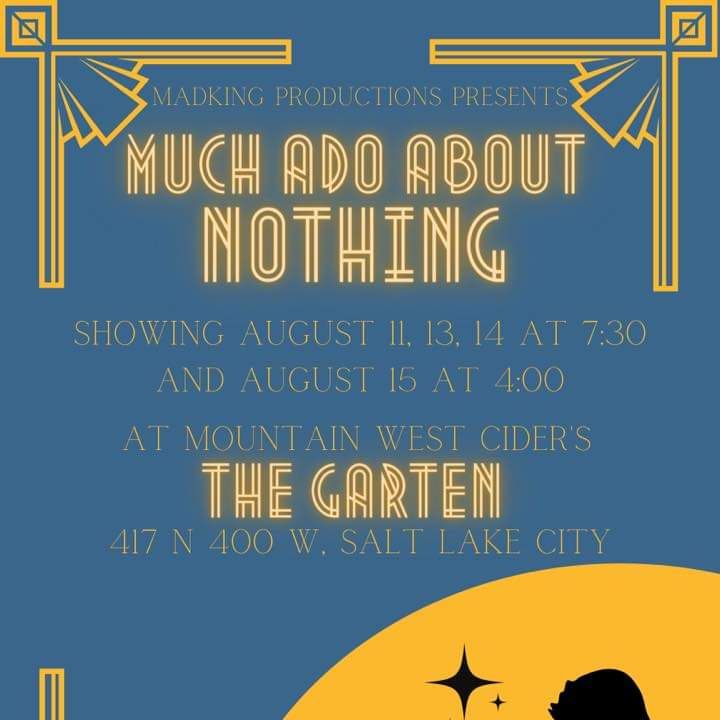 Arriving in august 2021!
Drunk Shakespeare Returns!
    Relax and raise a glass as Mad King Productions brings you to the 1920s with our production of William Shakespeare's Much Ado About Nothing, presented by Dented Brick Distillery!
    We are so excited to bring Drunk Shakespeare back to The Garten in 2021!
    Performance dates include Wednesday August 11th, Friday August 13th, and Saturday August 14th all starting at 7:30pm MST.
**ATTENTION: New performance time!** The closing matinee on Sunday August 15th will now start at 4:00pm!
     Tickets are $8 at the gate. All attendees must be 21 YEARS OR OLDER.
Drunk Shakespeare at The Garten is hosted by Mountain West Cider at 417 N 400 W Salt Lake City, UT 84103.